FIRST LOOK: Jennifer Hudson And Terrance Howard As "Winnie And Nelson Mandela" + Sex Tips From Tank
​
Jul 21 | by _YBF
​ ​ ​ ​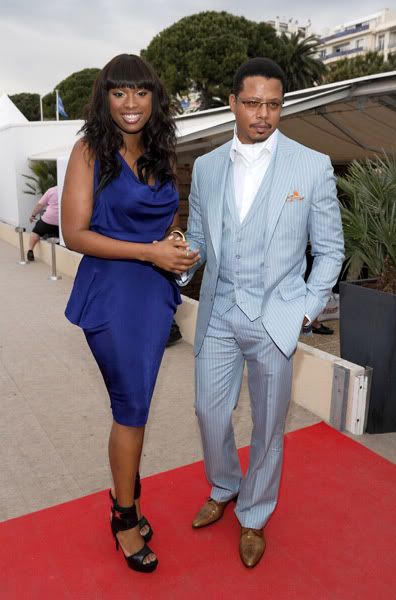 We have the first pic of YBF celebs Jennifer Hudson and Terrance Howard in their roles as Winnie and Nelson Mandela for you.
See the pic, learn more about the movie and Tank's sex tips when you read on...
The YBF has the first pic from the South Africa film, Winnie, with Oscar winner Jennifer Hudson as Winnie Madikizela-Mandela and Terrence Howard as Nelson Mandela.
Darrell James Roodt is directing the South African-Canadian co-production from a screenplay he wrote with Andre Pieterse based on Anne Marie du Preez Bezdrob's book Winnie Mandel'a: A Life.
They photograph well together. I'm sure both of them will bring fire and passion to these roles.
Pic via The Hollywood Reporter
Sexy R&B singer Tank has a hot new sex column on VIBE.com and he does not hold anything back. He offers tips, talks about the use of toys and talks about which celeb he would want to get with. Here are some snippets:
Don't be afraid of toys, they're fun. Toys only on the women! No toys on
me! But the silver bullet is one of my favorites, and the g spot dildo--the
one that curves up--that's another one of my personal favorites. Food
doesn't count as a toy. Walk in the store with your lady and don¹t be
embarrassed. Men try to act like we¹re not as nasty as we are so that we
won't give off the trueness about it but women can make a man feel more
comfortable by introducing it like, "Let's go to this store, let's watch a
porn together," and they'll be surprised at how a man will react to it. We
get excited about knowing we¹re not the only nasty creatures In the world."
His tips to keep it steamy in the bedroom
Focus all of your sexual energy on that one person. When you start
diverting your attention with anything like porn or just other women and
other conversations you can lose some of the intensity that you would have
with that person as opposed to if you were just longing for that one thing.
Like, if you wake up with some kind of craving on your mind--like if you
gotta have cold stone ice cream that day and you're not gonna stop until you
get it and when you finally get it it feels so good to you, that¹s the type
of focus that you need for the woman that you with. Kill all that other
stuff. Make her the focal point of all your sexual energy.

On which celeb chick he'd make his mistress:
Ciara, because being with her is probably almost like going to the strip
club where you don't go every night, you go like on Fridays and Saturdays.
And she get to dancing and doing all them tricks. I don't know if you can
handle that all seven days of the week so yeah, Ciara is the mistress.

Well alright Tank. You can check out more of his column here and here.
​ ​
​ ​ ​