Whitney Back On Drugs? + DMX Wife To Write A Tell-All-Book
​
Jul 20 | by YBF
​ ​ ​ ​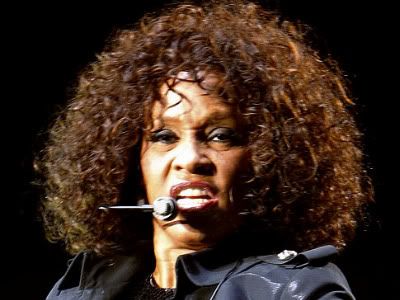 According to a source from The National Enquirer, not only is Whitney Houston back on drugs but spends up to $300K a year to keep up her habit. More details on Whitney and DMX's wife's tell all book when you read on.
The National Enquirer states that Whitney's friends are worried about her and believe she is in a downward spiral that will take her life.
Her entourage supposedly recruited a drug dealer and bought $6,000 worth of cocaine during one of her Europe tour stops, according a person who claims they were an eye witness to the deal.
The Enquirer says according to their own in-depth investigation, Whitney has spent around $6,300 a week on drugs, which amounts to $327,600 a year.
Her friend Marlon David, a party promoter told the Enquirer:
Whitney is a dead woman walking! With the amount of drugs she's buying, she won't be able to live long. She'll be dead in months.
If this is all true I really hope Whitney gets better. It's a shame to waste all that talent, not to mention her daughter who's growing up so beautifully.
DMX's wife, Tashera Simmons, who he is currently separated from, has linked up with Aliya S. King to write a tell-all-book about her life being married to a successful music artist.
Tashera said in an interview to HipHopDX that Aliya was one of the first people to allow her to open up and that's how they formed their partnership.
In an interview with AllHipHop she clarifies exactly what type of book she's writing.
It's not a tell-all, I want to clear that up. It's a memoir, it's a story about our life, my life, and our life together. My side of the story, because I feel like in his book, he didn't really get into detail to better explain it…I think reading my book it explains everything. I'm talking about everything, from when we first met at 11 and we got together at 18 and I'm starting from there until then on…It's a positive tell all. I'm gonna keep it 100% real, I'm more classy than [to say negative facts] if you read from the beginning to up until the point it gets crazy, you'll kind of understand the whole story…There's so many rumors out there, I haven't filed [for divorce] yet, but we are separated. We are separated, it's 20 years [we've been together].
The book will be called Strength of Women and she will talk about her family experiences and the work she had to do to keep her marriage together.
I don't know about yall but this is kind of sounding like a tell-all-book to me, but only time will tell. Are any of yall gonna read it?
​ ​
​ ​ ​