Lil Kim Talks Nicki Minaj, Drake And New Music + Zoe Kravitz Dishes About Her Band
​
Jul 20 | by YBF
​ ​ ​ ​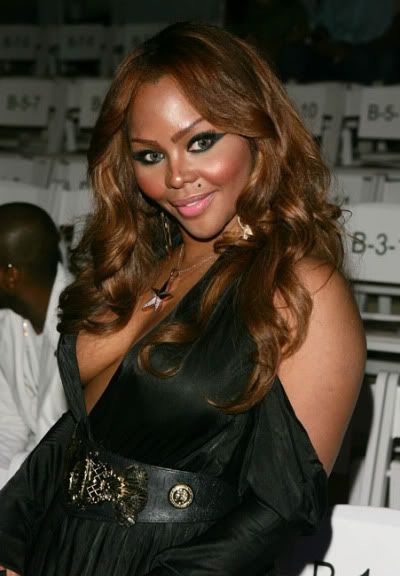 In a recent interview with Black Voices, Lil' Kim dishes on everything and holds nothing back. From her issues with Nicki Minaj and Drake to her plans for the future, Kim holds nothing back. Her interview with them plus Zoe Kravitz and info on her new band when you read more.
Lil' Kim touches on some hot topics in her interview with Black Voices. Here are some highlights:
BV: What have you been up to?

LK: "Well, right now I'm currently on my promo tour, which I'm ecstatic about. And it's been wonderful. My fans are the best in the world! I don't want to be any other celebrity right now. I love my fans. I'm looking to release a single [this month], because I got a lot of songs that I worked on. I've been in the studio with Dr. Dre. I'm going to be on his 'Detox' album. It's 'Hardcore' Lil Kim. It's one of those records that, even if it doesn't become a single, it will always be in your playlist. Dr. Dre in return is going to do some stuff for my album. I've been in the studio with Timbaland, too."

BV: So what's going on with you and Nicki Minaj?

LK: "Well, here's the situation. At the end of the day, when I came into the industry, I had to ... let me take that back. I didn't have to pay homage [to female rappers], but I did, I chose to. Because I knew that would be better for my career, but not only that, I love those girls! I did pattern myself after Salt-N-Pepa and all these other girls that were in the industry, Da Brat, and Lady of Rage. I would've look like a fool coming in saying little things and subliminal raps, because how could I ever disrespect these women who have been in the industry and paved the way for me?

"See that's the problem, why don't we just be real here and go back to a year and a half ago when she was just busting shots out of every place when she said in one of her interviews, 'Oh, you know I'm going to sit by the pool and have the females in the game who's been here for 10 years feeding me grapes, being that they don't have nothing else to do right now.' Oh yeah, bitch. I remember that! I remember that, I'm not going to forget it! Because at the end of the day, how dare you disrespect me or any other female that's been in this industry for so long. She's the same dag on age as us. Stop it! You coming in the game at 30 years old, don't even freakin' go there, don't go there."

BV: When we found out that Drake said that she's the best rap chick in the game, she's the only rap chick in the game.

LK: "See that's another problem that I have, I'm going to briefly explain this, but here's another thing that the world doesn't know ... I have a really great relationship with the people who run her camp [Cash Money Records], Slim and Baby. My relationship is with Slim, I've been cool with him for four or five years now. This whole thing came about when she was first trying to come up and everything. I honestly didn't like it. It was so obvious that she wanted to be like me. It was so obvious that she wanted to pattern herself after me. She likes me, but she just doesn't know how to show me love. So I looked at it like, they know how to do it, cause Slim always got the industry, me and him got the same thing. I got a lot of love for Slim. So his thing was, we should all do something together and that's how I saw it. I was like, 'Hey it would be great for hip-hop to see me and a female rocking together.'

"I wasn't blown away by her when she first came out and even now I'm not blown away. But I thought that she had a rhyme style that would've flowed with mine that I liked. And I said I could kind of see myself rapping with her. So I was like ok, let me make some friends here. I threw up the white flag. So I'm over here and Baby asked Slim to ask me to do a record for his album. I did the record. They put Nicki Minaj on the record, No problem. I said let's do it. Baby was like, 'Yo, this record is crazy' when I did my verse he loved it. He was like, 'I don't just like it, I love it.'

"When they put the record out, I guess the response that they got for her wasn't what they wanted because everybody was saying that I smashed the record. So [Baby] pulled the record back. They f---ing sh---ed on me!? Ok, now it's time, now it's war, because I'm tired. I'm tired of people taking advantage of me and being quiet and people don't know what's going on."

BV: Now what about you and Jay-Z?

LK: "I love Jay-Z. But here's the thing, he had a conversation with me before about bringing me on Roc-A-Fella. And it didn't happen. But, hey, maybe this is the right timing. I don't always agree with everything Jay-Z does, and he doesn't always agree with everything that I do. But we've been friends since 15 years old, so I look at it like there's no escaping him. Same thing with Puffy [Diddy]. Puffy and I are brother and sister. And we're going to fight, but I can't escape from Puffy. It's almost like, I'm stuck with the boy. We're brother and sister and we both don't always do the right thing. As a matter of fact, most of the time he doesn't do the right thing. It's a love-hate thing I guess. I'm just so tired of doing so much for him and he doesn't do anything for me. It's time for me to start giving back to Kimmy."

BV: What do you want to do next?

LK: "Lil' Kim wants to do are more movies, more endorsements, more advertisements, more whatever. But whatever comes my way that's meant for me I'm going to take it. Right now, I'm also working on this movie, I can't say the name, but it's a movie that I'm working on with a really prominent person, and I love him to death. He's a really good guy in his own world. I think it's a really good movie for me."

BV: So many people are rooting for you.

LK: "To be honest with you, there was a lot of money left on the table because I had a lot of blocks throughout my life and career. And I wasn't able to finish things that I started. So I have unfinished business. So I'm coming back to get the money that I left on the table when I went to jail. The money that I left on the table when me and [Junior] M.A.F.I.A. broke up. The money that I left on the table after Biggie died, I'm coming back to get all of it. And not only that, I'm coming back to give my fans what they truly deserve, this is for them."
You can read the full article here.
It sounds like Kim is about to come back in full force. I'm definitely interested in seeing what she does next.
Our friends over at Black Voices also did a recent interview with Lisa Bonet and Lenny Kravitz daughter, Zoe Kravitz. She talks about her band, some of her musical influences and what it's like being the daughter of two celebs.
Here is a bit of her interview:
Everyone in the group lives in Philadelphia except for Zoe, how does the distance impact the group?

Zoë Kravitz: We definitely don't get to rehearse or write together as much as we'd like to, but we get sh*t done. I'm really well known on the China bus now. The distance issue definitely makes things a little more complicated, but in the end, it works out. We rehearse more when we have an actual show to prepare for, as opposed to rehearsing on a regular basis. Dom will come up to New York and crash at my place and we'll write music together.

What do you guys like to write about?

ZK: We sing about the Illuminati, beer, comic books and naked chicks. Kinda just everything.

Dominic Angelella: We actually do have a song about the Illuminati. We also like to write about personal stuff and ghosts... there's a lot of inspirational stuff in the world.

What are your musical influences?

ZK: I always wanted to sound like Jack White, Tom Waits, Patti Smith and Karen O. That's who I want to be like.

DA: I'd like to be Andre 3000 meets Jack White and Aereo Plain.

If you could have your way, who would you tour with?

ZK: I think I'd like to go on tour with the Yeah Yeah Yeahs and Good Weather Girl, but I'd be kind of scared to open up for Good Weather Girl.

DA: Lil Wayne would be cool. It would be cool to go on tour with a crazy superstar, but it would also be cool to go on tour with a less famous band.

Do you guys have an album in the works?

ZK: We have a collection of really sh***y performances from Dominic's basement -- unreleased masterpieces -- but we're going to record an album this fall. Right now were in the process of writing for it.

How do you handle having two famous parents?

ZK: I'm not trying to act like I'm not their kid but I'm tired of being known as their kid.
You can read the full interview here.
Zoe turned out to be exactly as you would expect the child of Lisa Bonet and Lenny Kravitz to turn out. I'm kinda feelin her though. She's rocker fab. What do you guys think?
​ ​
​ ​ ​