Recap of 2010 ESPY Awards Show
​
Jul 15 | by YBF
​ ​ ​ ​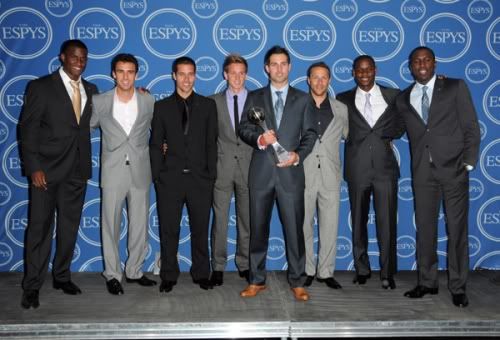 We've seen who arrived at 2010 ESPY Awards but what actually happened at the awards???
Read on to find out....
The show was hosted by Seth Meyers of "Saturday Night Live". Throughout the night he made jokes about Tiger Woods, the Kardashians, and LeBron.
Meyer's said of Tiger Woods, "We all know which free agent is making the most money this summer.....Elin Nordegren(Woods wife)."
The host also shared how he felt about LeBron's 'The Decision' special saying, "Did it really need to be an hour? Somebody time me. Miami. How long did that take? A second !".
Steve Carell and Paul Rudd also made a parody of the decision, which you can watch below
Other celebrities took the time to comment on Mel Gibson situation.
Bobby Brown said, "My take on it is, as long as he didn't say it to me. I just don't appreciate him putting his hands on a woman."
Amare Stoudamire, who just signed a 5 year, $100 million contract with the New York Knicks, said, "Mel's a great actor and I wish he was just a little more professional."
Janelle Monae also performed throughout the show.
All jokes and commentary aside, the biggest winners of the night were the New Orleans Saints, taking home the award for 'Best Team'. Their quarterback, Drew Brees, also won four trophies.
The reigning NBA champion Los Angeles Lakers superstar Kobe Bryant won the award for 'Best NBA Player'.
Chris Johnson of the Tennessee Titans won the 'Best Breakthrough Athlete' award and made sure to include his Twitter name in his acceptance speech.
Floyd Mayweather won 'Best Fighter' and Serena Williams won the award for 'Best Female Tennis Player'.
#1 NBA Draft pick John Wall won the 'Best Male College Athlete' and UConn basketball star Maya Moore won 'Best Female College Athlete'.
What did you think about the ESPY's?
​ ​
​ ​ ​