Lil Kim Gives Lindsay Lohan Jail Advice + Krave 5th Anniversary Fashion Magazine Cover
​
Jul 14 | by YBF
​ ​ ​ ​
I guess Lil Kim finds it necessary to give Lindsay Lohan some jail advice.
This plus a FAB cover of Krave magazine when you read on...
Lil Kim feels sorry for Lindsay Lohan's recent jail time verdict. So the rapper decided to give her some advice to consider while in jail.
Lil Kim says, " ...one thing that I always know is that God oversees. he's the biggest judge and he will make sure she's alright, and I will make sure she's alright, and she will be fine."
Kim does know about jail time- she served a year for conspiracy and perjury. She also has a problem with the judicial system saying, "If you're not killing someone or doing something really drastic, really, to me, no one deserves to be judged. I mean, we as celebrities do a lot of good, but that doesn't get looked upon."
Seriously??
Here's a video of Lil Kim's advice to Lindsay
YBF has the second promo cover for the 5th anniversary fashion issue of Krave Magazine. The unveiling of the real cover won't take place until July 24th in Dallas. The publication has received a large number of pre-orders and the cover is probably the reason why.
This is Washington Redskins wide receiver Devin Thomas.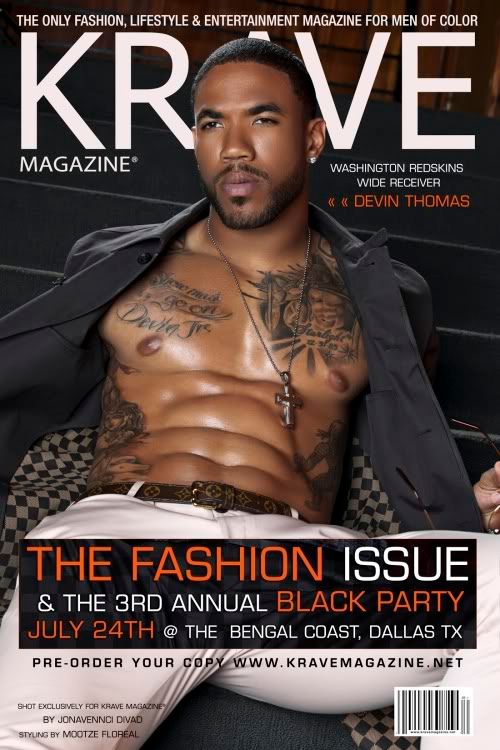 Something tells me I'll be watching the Redskins a lot more often this season. *fans self*
​ ​
​ ​ ​