Keke Palmer Has Smarts + Eve Doesn't Want A "Sap" For A Man
​
Jul 13 | by YBF
​ ​ ​ ​
Keke Palmer recently graduated from high school and get this, she received her diploma a year early.
Learn more about KeKe's accomplishments and what Eve really wants from a man when you read on…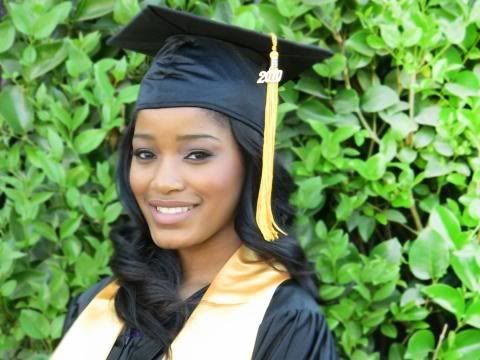 Actress/recording artist
KeKe Palmer
has some major achievements to celebrate this summer. She recently graduated from high school from the Home School Program Options for Youth curriculum. She has also been awarded the 2010 BET "Youngstars" AWARD and she is gearing up to
release
her sophomore album with Interscope this fall.
She tweets that she is releasing a mixtape this summer and is also launching her new
blog
tomorrow. All of these
accomplishments
come just before her 17
th
birthday in August. Sweet!
She is uber fab and the pinnacle of Young, Black and Fabulous.
Meanwhile, Rapper Eve recently sat down with Essence's Sister 2 Sister magazine to dish about her ex-fiances and her new outlook on life. Here's a snippet from the interview:
Jamie:

We talked about this: You said you're doing a lot of self-evaluation and I mentioned to you, if you were Eve, would you marry Eve?




Eve:

Right, when we were talking about relationships and stuff. I definitely can't get frustrated with the kind of guys that I deal with: "Oh, he gets on my nerves," or more like, "I can't believe he would do that." It's like I have something in me that's attracting that kind of men, so I know I have to do self-reflection because I want to bring the right kind into my life. And that is a great question, "Would I marry myself?" Probably. I would absolutely marry myself.


Jamie:

You told me you were engaged to a Ghanaian guy. You're in Africa a lot. Why is that?

Eve:

I was going to Ghana for a while just because that's where he is from. He's an amazing man. We keep in touch every so often. He was a great guy, but I knew it wasn't right. We definitely didn't have the same things going on in our heads, as far as what it is we wanted as a life. He pretty much was down to do whatever I wanted to do and I don't need that, you know?


Eve:

I need somebody in my life that's going to challenge me. Like, I definitely want to be priority, but I don't want a sap. You know what I mean?
Check out the rest of her Sister 2 Sister interview here
With this new outlook on life, will she still be the "pitbull in a skirt" we all love?
​ ​
​ ​ ​