Update: Ex BART Cop Issues Apology to Oscar Grant & Family
​
Jul 11 | by YBF
​ ​ ​ ​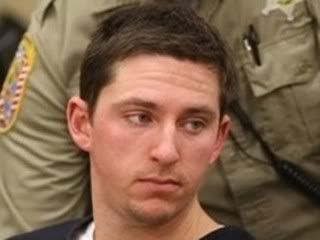 On Thursday, former Oakland BART police officer Johannes Mehserle was convicted of involuntary manslaughter for killing Oscar Grant, an unarmed transit rider on New Year's Day 2009.
A handwritten letter by Mehserle, dated July 4, has just been released by his lawyer. The letter describes Mehserle's deepest regret for the unfortunate killing. The letter when you read on....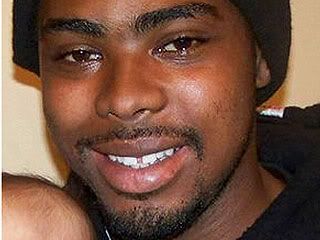 Mike -

Please try to get this message to the public:

I don't know what the jury in this case is going to decide, but I hope those who hate me and those who understand that I never intended to shoot Oscar Grant will listen to this message.

I have and will continue to live everyday of my life knowing that Mr. Grant should not have been shot. I know a daughter has lost a father and a mother has lost a son. It saddens me knowing that my actions cost Mr. Grant his life, no words express how truly sorry I am.

I hoped to talk to Ms. Johnson and Ms. Mesa in the days following this terrible event, but death threats toward my newly-born son, my friends and family resulted in no communication occurring. I hope the day will come when anger will give way to dialogue.

For now, and forever I will live, breathe, sleep, and not sleep with the memory of Mr. Grant screaming "You shot me" and putting my hands on the bullet wound thinking the pressure would help while I kept telling him "You'll be okay!"

I tried to tell myself that maybe this shot would not be so serious, but I recall how sick I felt when Mr. Grant stopped talking, closed his eyes and seemed to stop breathing. I don't expect that I can ever convince some individuals how sorry I am for the death of Mr. Grant, but I would not feel right if I didn't explain my thoughts as I wait for a decision of the jury.

Johannes Mehserle 7-4-2010
Mehserle's verdict resulted in violent protests and riots Thursday night.
Hmmm, do you think the letter was sincere?
In Non-YBF, but related news, actor Mel Gibson has been catching a lot of heat for another racist rants. This one aimed at his baby mama. They are locked in a bitter custody battle and Gibson wasted no time telling her how he felt about her:
"You're an embarrassment to me. You look like a f***ing bitch in heat, and if you get raped by a pack of n***ers, it will be your fault."
Wow! Tell her why you mad. Now that's a lethal weapon! With the release of his latest recording, Mel Gibson has been dropped by William Morris Endeavor Entertainment Agency.
​ ​
​ ​ ​