Fans Get BLASTED For Starting Lil Kim Intervention!
​
Mar 01 | by Natasha
​ ​ ​ ​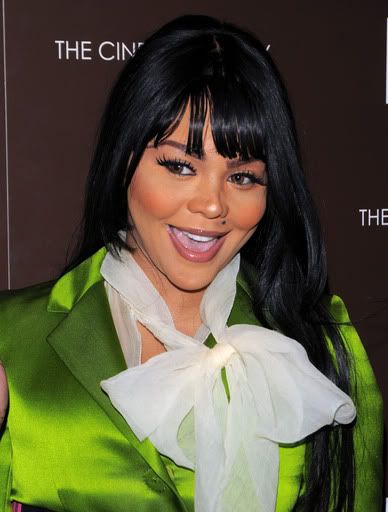 There's drama on the
Lil Kim
fan front. The folks over at
LilKimFanZone
--who tell us they've been going hard for Kim for 15 years and have been supporting her via their site for a long time--are officially
done
with their idol. It all started when the head honchos at the Fan site reached out to Kim's assistant because of Kimmy's recent bleached appearance and weird actions. The fans believe Kim is being brainwashed by the people around her. Then the fans got insulted and blasted by Kim's assistant and crew. The drama after the cut... Here's the email we received:
We all know recently Lil Kim (or Ho Chi Min as you call her lol) has been wearing terrible make up and making bad career choices. So just recently (2-27-10) the fans spoke out on twitter to her assistant and new right-hand man football player Bryant Mckinnie. And they LASHED out at the entire Lil Kim Zone Forum. LilKimZone.Net is the bases of Kim's hard core fans. We're not some new fans. We have been holding her down for at least 15 years, and this is the thanks we get? We only expressed how we feel that Kim is the being misled to think she looks ok and it needs to stop. Not only did they get defensive but they got racial, and homophobic.
I send you this email because this needs to be exposed, Kim needs help, this could be the beginning to her intervention. We as the fans honestly believe she is being brain washed, and that she is surrounded by YES men. We dont want her to end up like Michael Jackson or Anna Nicole Smith, because we are lead to believe drugs are involved.
Here's one tweet from Kim's current assistant:

Kim's
former
assistant/cousin
Sherlish
Tweeted about the drama and blasted the new team. She said she left that "sinking ship" herself because Kim would rather believe the YES people around her instead of the people who love her. It's getting to be a dangerous situation. We've seen how situations like Kim's can turn out. This could be only the beginning of the drama...
​ ​
​ ​ ​