WTF Material: Ciara Hops On The KFC Bandwagon?+Eve Pops Off On Chris Brown+Plies Did What?
​
May 29 | by Natasha
​ ​ ​ ​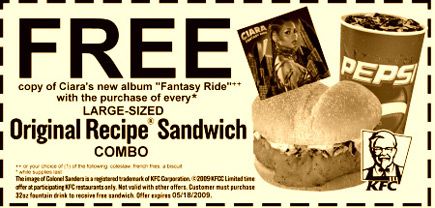 Really
Ciara
?  No...really?  Did we not learn our lesson from
Oprah
?  CiCi has apparently teamed up with KFC to give fried chicken eaters a free copy of her CD.  WTF?  Are they going to have to do rainchecks for that mess too?  And a WTF to KFC too.  All this pimpin' black people with chicken and entertainment just really needs to stop.  Like, now. With all that said, we haven't validated this is real. Still awaiting confirmation.
UPDATE
: Here's the statement from Sony:
"Ciara is currently focusing on her upcoming tour dates with Jay Z (select dates in the U.S.) and Britney Spears (Europe).  Reports of a Ciara/KFC promotion are patently false."
In other news,
E-V-E
tapped into her "Love Is Blind" era and popped off on
Chris Brown
.  And she did it through--how else--Twitter.  Here's
her postings
from the other day: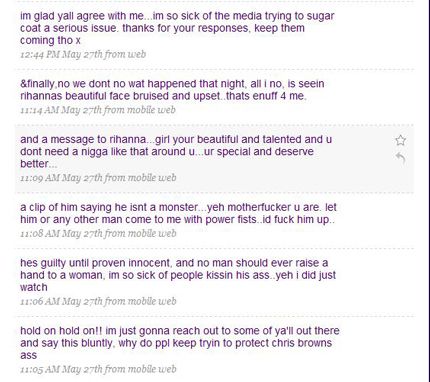 Tell 'em why you mad Eve.
Plies
gave some little girl his chain at last night's Cavs game because she was crying. I'm still confused as to why. And when our young ladies are crying over seeing some damn "Bust It Baby" Plies, what's really hood with our youth? Stay in school kids.
​ ​
​ ​ ​