Real Housewives Of D.C. Is Next!+Kelis & Her Pregnant Belly Hit The Beach
​
May 26 | by Natasha
​ ​ ​ ​
And here we go again.  Bravo has hit the O.C., New York, Atlanta, and New Jersey.  Now they're set to come to the D.C. area to tape the next installment of "Real Housewives" starting next month.  Here's what the press release says:
"We're tapping personalities who are among Washington D.C.'s influential players, cultural connoisseurs, fashion sophisticates and philanthropic leaders," Frances Berwick, Executive Vice President and General Manager, Bravo Media, said in a statement. "The people who rub elbows with the most prominent people in the country and easily move in the city's diverse political and social circles."
First Lady Michelle Obama
wannabes are about to be out in full force trying to get "chosen". And the poser crowds are about to grow even larger. As long as Destination D.C. is
not
ATL foolishness part 2 and as long as they don't completely leave out black folks like they do in all their other cities, I'm all about it. This ought to be interesting.... By the way, we hear they've already started taping the "Real Housewives of Dallas".  And Destination Beverly Hills is on the way as well. Looks like
Kelis
took to the beach this Holiday weekend for some rest and relaxation: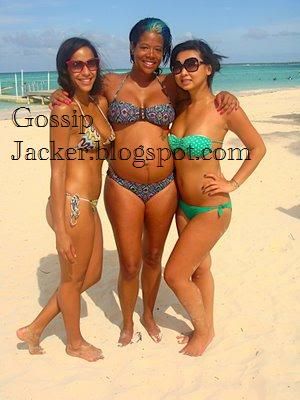 The soon to be former Mrs. Jones rocked her bikini to show off her preggers belly.  And is still keeping it funky with that hair....
Pic source: Gossip Jacker
​ ​
​ ​ ​