SUPERBOWL FAB: Jennifer Hudson Sings The National Anthem+Congrats To The Steelers!
​
Feb 02 | by Natasha
​ ​ ​ ​
Jennifer Hudson
killed the National Anthem at tonight's Superbowl. It's her first performance after the tragic deaths of her family members. And it looks like she's ready to take the game again. Check out the vid in super HD above. Fabulous.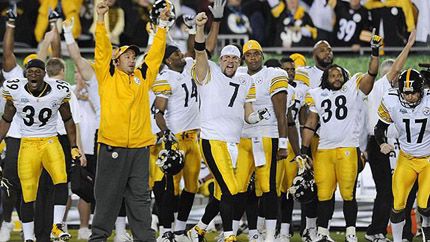 And congrats to the Pittsburgh Steelers for winning Superbowl 43! They made all kinds of history tonight. The Steelers are the first team to ever win 6 Superbowls. Head Coach
Mike Tomlin
is the Steelers' first ever black head coach. And he's only the second black head coach to win a Superbowl (
Tony Dungee
was first a couple years ago). And he also made history tonight by being the youngest head coach in history to ever win a Superbowl. Gotta love it. Aside from the foolishness that was the
M.C. Hammer
&
Ed McMahon
Cash4Gold commercial, the game was a hot one. And coming form a sports illiterate person like myself who is mainly looking for the cuties on the filed, that says alot.
​ ​
​ ​ ​