Really Kenyon Martin?
​
Dec 16 | by Natasha
​ ​ ​ ​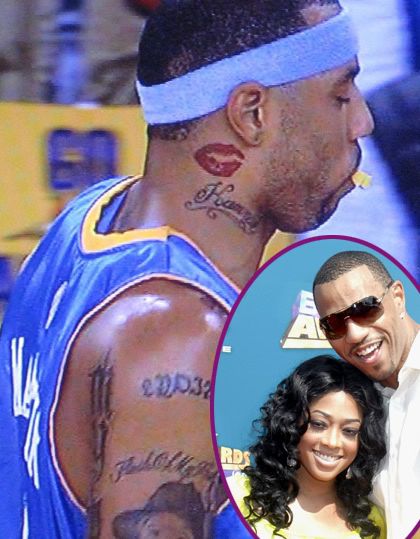 I'm not sure where Denver Nuggets baller--and
Trina
's boyfriend--
Kenyon Martin
got this bright and tangy idea.  But he has gone off and gotten a kissy lips tattoo right on his neck.  When he had a sit down interview about it, he told the journalist it was an ode to his girlfriend (Trina).  And it's something he's always wanted--he just had to wait to get it for the right person.  I guess his former 2 wives weren't "right" enough.  And isn't he still legally married? Either way....this tatt is just not ok and I actually tried to sit and ponder his view and reasoning.  But I just can't.  Here's a clip from his interview where he speaks about it:
Trina's lucky her man is cute.  Because this foolishness is something that would be real difficult to overlook everyday if he wasn't. Then again...she was love struck behind some
Weezy
just a little while ago....
​ ​
​ ​ ​