Seriously Plaxico Burress?
​
Dec 01 | by Natasha
​ ​ ​ ​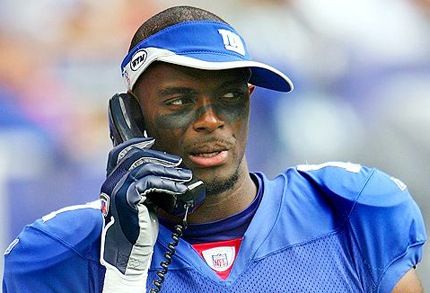 In the dumb criminal move of the weekend, star NY Giants baller
Plaxico Burress
shot himself in the leg at a club this weekend. Apparently the gun, which he owns, fell down his pants leg while partying, and it accidentally fired off, hitting him in the leg. He was taken to the hospital and released hours later as the wounds were not serious.
Today, police went to his home to seize the weapon
and have charged him with felony weapons possession charges. When will these fools learn? Plaxico grabbed up
Diddy
's lawyer from that infamous club gun shooting case involving him,
J.Lo
, and
Shyne
back in 1999. Oh, and Plaxico is turning himself in tomorrow and pleading Not Guilty. So he's going to show up in court with a bloody bullet wound in his leg looking like 50 Cent and he's going to act like it's not there? Stop it.
​ ​
​ ​ ​