Political Fab: YBF Endorses Barack Obama For President
​
Oct 21 | by Natasha
​ ​ ​ ​
For the first time ever (ok, we weren't even around for any other Presidential election but whatever), YBF is endorsing a Presidential candidate: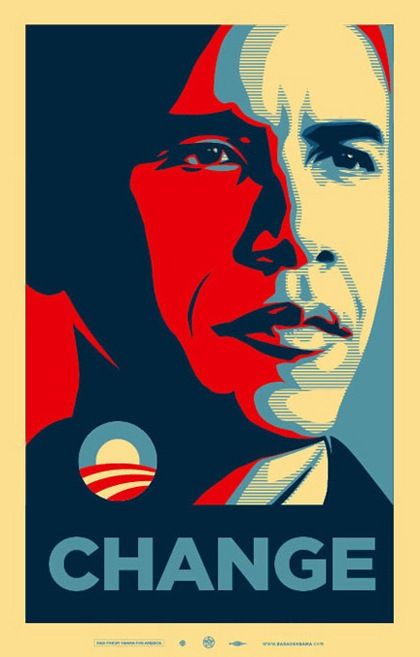 And yeah.  We're going with
that
one. For those of you who aren't tired as hell of this election just yet, there's more when you read the rest... TheYBF.com is officially endorsing
Barack Obama
for President in this 2008 Election Season.  As for the reasons, I mean, we're not about to give a
Colin Powell
style dissertation or anything.  Especially when anyone can debate why either candidate is best.  But it's simple.  If you don't change, you die.  And we've been seeing the death of the U.S. economy, U.S. power, and the respect of the U.S. worldwide in recent times.  Eight years of leadership by someone who isn't the brightest crayon in the box and can barely surround himself with those who are will do that. My fellow political science degree holders know the
true
role of a U.S. President is not to make policy or to develop the best plans for the country, despite popular belief.   It is to properly enforce policies made by Congress, be a trusted, comforting, and motivating leader in the face of trying times, and to be the face of the country to the world around us.  And we believe Senator Obama is the best possible choice who embodies those qualities.  The issues where he is lacking in knowledge, we're confident he can appoint the best person to advise him on that issue. Uniting the country and giving Americans a reason to be confident that their lives are protected on every front are some of the most important issues when revamping and keeping a country strong, powerful, and respected.  Many people don't realize how much those things affect our economy and defense, which in turn affects your everyday life.  And the fact that Sen. Obama could move a record number several millions of people to even give a damn about this election period, especially the 18-35 crowd which is the most overlooked and has the lowest voter turnout, speaks volumes.  It's not about relatability necessarily, but it's about the bigger picture, leadership and confidence.  We're fully aware that both sides have their pluses and minuses, and both play politics.  But what matters to us is change and progress.  And we only see Barack Obama offering those things.  In my lifetime, I can't remember a Presidential candidate giving a damn about the issues of 18-35 year olds--who are indeed the future of this country.  But Barack does.  From him visiting a staggering number of college campuses to targeting areas where young families--both struggling and affluent--live from the start of his campaign are the types of things I noticed.  I didn't see other candidates doing the same. The
McCain/Palin
ticket is cool and all, but we simply don't believe them.  They need more people.  And all their people remind me of the same--Bush.  Doing things the same way over and over again is called insanity. And we're far from that.  So, we're going with change.  Are you? And let's face it...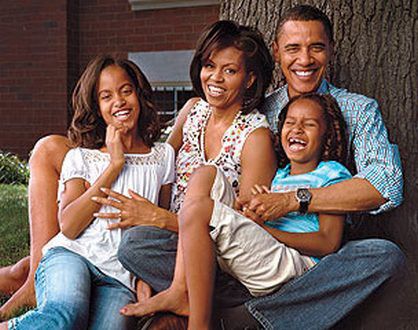 The Obamas will be the most fabulous First Family the White House has seen in a long minute.  Loves it. Vote November 4th.  And don't forget your Congressmen (the
real
policy makers) may be up for re-election too.  If you're in an early voting state, vote early.  Let's get it...
​ ​
​ ​ ​