Here We Go Again...
​
Sep 02 | by Natasha
​ ​ ​ ​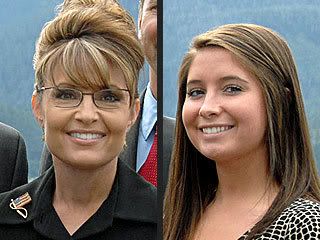 So Republican VP pick
Sarah Palin
has confirmed reports
that her 17-year-old daughter
Bristol
 is indeed 5 months pregnant.  And in true
Jamie Lynn Spears
--and
Solange
for that matter--form, she's marrying her baby's daddy in a shotgun wedding pretty soon.  So much for those strict conservative morals those Republicans love to tout around. This confirmation comes amidst rumors that the child Mrs. Palin just had back in April isn't actually hers.  But it is actually her teen daughter's, and telling folks it was Sarah's 5 month old was just a cover up.  Somebody's been watching "Desperate Housewives".  Sources everywhere were reporting that not one person on her governor staff knew she was pregnant until she busted out ne day that she was about 7 months along.  But she hadn't changed physically in any way.  So this Bristol pregnancy confirmation was likely to ward off those rumors.  This Palin chick is suspect to say the least.  And I won't even get started on her sounding like she's doing the interview competition at a beauty pageant when she speaks.  So was this really a good move for the
McCain
campaign?  Speak on it...  
​ ​
​ ​ ​