Solange Speaks Her Mind+Forbes' Hip Hop Millionaires List+Other Ish
​
Aug 20 | by Natasha
​ ​ ​ ​
50 Cent
is topping the charts for these past 12 months as Forbes' Richest Hip Hop Cash King. He comes into the #1 spot with $150 mill after taxes. And that's almost twice what the silver medal (second place winner)
Jay-Z
came in with. And 50 got his riches mainly off of one deal:
The new king of hip-hop wealth banked $100 million after taxes on one deal alone when his stake in VitaminWater's parent, Glacéau, was bought by Coca-Cola (nyse: KO - news - people ) as part of a $4.1 billion deal. 50's portfolio also includes the popular G-Unit clothing line and record label, plus films, videogames and a slew of platinum albums, including last year's Curtis. Also in the works: a mining partnership with South African billionaire Partrice Motsepe.
Check the rest of the article and runners up
here
. The top 5 is rounded out with
Sean Combs, Kanye West
, and
Timbaland
in that order. This is not a game peoples. Now "A Milli" that.  
  Word broke this week that
Solange
will be supposedly be speaking out about her ADD (Attention Deficit Disorder) she was diagnosed with on multiple occasions. I haven't tracked down this info to a credible original source yet, but supposedly she will be speaking about it in an upcoming magazine article. She says it explains her different outlook on art and why people thinks she's high when she's really actually sober. Anywho, Solo also hit up Lip Service radio show and talked about her sex life, dating life, and people hating on her sister. Listen to the clips by clicking the headlines below:
Solange on having some side-pieces and her best date ever:
Solange says B*tch Please to the Beyonce haters:
Solange addressing some rumors about who she is dating:
Loves this chick.    
Speaking of Solange, her sister Beyonce will be sharing a track called "Just Stand Up" with several YBF chicks and others to raise breast cancer awareness. According to
ET
:
The single "Just Stand Up," which also features Mary J. Blige, Rihanna, Fergie, Sheryl Crow, Miley Cyrus, Melissa Etheridge, Ashanti, Natasha Bedingfield, Keyshia Cole, Ciara, Leona Lewis and LeAnn Rimes, will hit the airwaves as well as ITunes on September 2 and all proceeds will go towards cancer research.
Then on September 5 the A-list group will unite on stage to sing the song live during the "Stand Up To Cancer" TV special, set to air simultaneously on ABC, CBS and NBC. Hot.    
Shaun Robinson
interviewed Olympic stars such as U.S. swimmer
Cullen Jones
, the first African American to set a world record in swimming and gold medal winner in the 400-meter freestyle relay and
Kobe Bryant
, Los Angeles Lakers guard and the NBA's most valuable player (who is the leader of the U.S. Olympic basketball team favored to win gold in Beijing).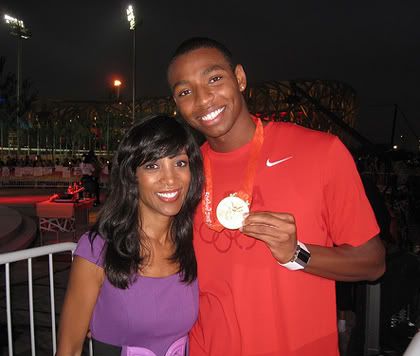 Shaun asked Jones what he thought when he heard the rumor that the French relay teams had been trash talking the American team before the race. Cullen admitted that the rumors were motivating saying, "It did give a little push -- I won't lie."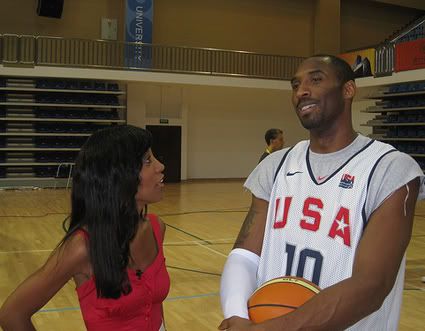 When Shaun asked Bryant if he'd be sampling scorpion while he was in Beijing he said he'd be willing try it saying, "It tastes just like chicken."   Oh Kobe.  
​ ​
​ ​ ​