WTF Material: Scott Storch & Tommy Davidson
​
Jul 24 | by Natasha
​ ​ ​ ​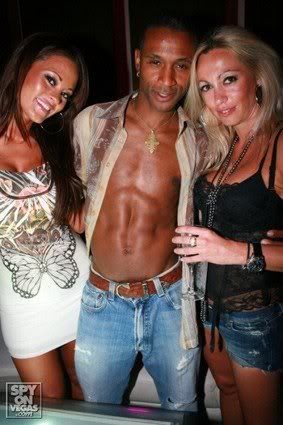 Well if that doesn't provide the afternoon swexy I don't know what does. 42 year old
Tommy Davidson
was spotted partying it up with some "friends" at Club Revolution in Vegas last night. I guess when you don't have another gig lined up you start twirking it for cash from the ladies. *Gag* reason #1523 why
In Living Color
needs to make a comeback.        
Not only is
Scott Storch
having "cash flow" issues, he's now getting his home in Miami foreclosed on. Suntrust bank is forclosing on his ish and is putting his ass out extra soon. According to
The Palm Beach Post
:
In his blinged-out heyday, Storch signed for two SunTrust mortgages worth a combined $7.75 million so he could buy a 10-bed, 16-bath mansion on Miami's Palm Island. He hasn't made monthly payments for most of this year, even after borrowing another $170,000 from friends, according to court papers.
Storch's sprawling home also has been liened by an electric company for $11,215 and a security system installer. Storch still owes $17,151 for his state-of-the-art camera network — a system that couldn't keep out repo men.
Over the past month, Storch saw his Ferrari Scaglietti and his prized motorcycle, a Bones Bike, repossessed.
Nobody told him to go and produce that wack ass
Brooke Hogan
album and co-sign on that chick on national tv on that Hogan's reality show like she was the next
Beyonce
. Because we all know everything went downhill from there. Get it together peoples. The Randomness: 1.
Jasmine Guy's
estranged husband
has filed his response to her divorce papers
. And it's a doozie.    
​ ​
​ ​ ​