UPDATE: The Real Deal On Fabolous & His Baby's Mama
​
Jul 24 | by Natasha
​ ​ ​ ​
I told y'all I'd get the low down on
Fabolous
and this new baby of his that popped up out of nowhere.  And here it goes:  
Fabolous' baby Johan, inset pic is mother Emily
  Yesterday,
TheYBF.com reported that rapper Fabolous has a new baby boy
and featured a picture of the allleged baby's mother.  Sources close to Fab's baby's mother both personally and professionally reveal to TheYBF.com that the baby's name is
Johan
and he is now 5 months old. 
And
we've got the low down on the mother of his child and their "relationship".  She is 26 year old
Emily B.
and she and Fabolous have been a couple for the last 6 years.  Yes...6 years.  She has actually tried to stay out the spotlight and that's why this the first time any one has heard of her in 6 years.  Emily has been Fab's stylist for the past 2 years (she's been a stylist for a total of 7 years now), so they were actually together
before
he gave her the job. And in true
Urshmeka
form, Emily also has a 10 year child (a little girl) from a previous relationship whom she had before entering a relationship with Fab.  As for Emily and Fab getting engaged or married, our source tells TheYBF.com that they are definitley NOT currently engaged.  Whether or not they're heading down that path is up in the air.  And one of our sources tell us no one, including Emily, is exactly sure if marriage is going to happen anytime soon.  Especially because at this current time there are no plans Emily has even discussed with her closest friends.
Emily (far right) and her BFF Valeisha (far left)
  Emily and Fab currently live together in New Jersey.  She was also the stylist for Ryan Leslie's and Fab's new "Addicted" video.  It was just taped yesterday.  Her best friend is none other than YBF chick and Executive Director of the Women's in Entertainment Empowerment Network (WEEN)
Valeisha Butterfield
--who was also engaged to rapper
Game
at one point. Our source also tells TheYBF.com that rumors of Emily previously being a model and/or video chick are all false.  Said source tells us that these rumors "were completely left field" and Emily was never either of those things.  She has simply been a stylist since she was 19.   More pics of Emily B. when you read the rest...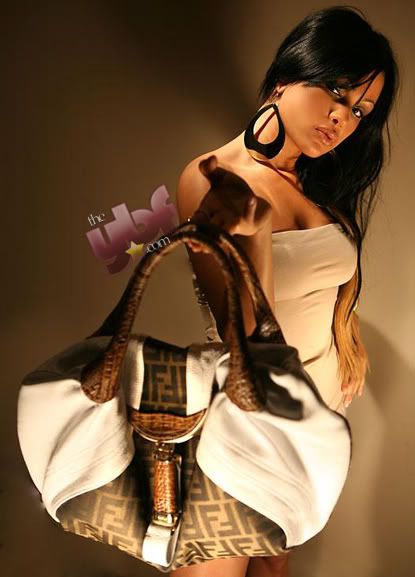 I'm still bitter about this baby business. 
And
what?
​ ​
​ ​ ​