Y'all Ain't Slick Punk & J-Hud!
​
Jul 23 | by Natasha
​ ​ ​ ​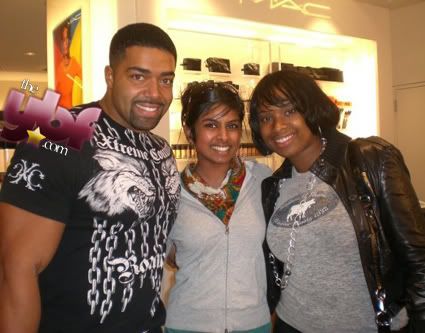 Click above pic for larger image
Well what do we have here?  Yet another spotting of the most random couple in the '08.  YBF snitches exclusively caught up with the rumored new couple very recently while they were having a little couple's shopping trip.  And we've got the exclusive pic to prove it.  Yeah,
Jennifer Hudson
and
David "Punk" Otenga
from
I Love NY 2
are still trying to act like they don't even know each other (even though Punk is usually lurking in the background of damn near all her photos). But sources tell TheYBF.com they have been very much boo'd up when they think cameras and paparazzi aren't around.  Or when they think a fan pic like this won't end up in the wrong hands. *evil laugh*  Interestingly enough, Punk was spotted hitting up
Regis and Kelly
this morning with Jenny as she hit the show to perform.  Yesterday,
we put 4 and 4 together and came to the conclusion
that these two suck at hiding a relationship.  But I would hide my man too if he looked like
Jonathan Plummer's
twin and was Captain of Team Tang.  I'm still disappointed about this whole "secret relationship" but I still gots love for you Jenny.   The Randomness: 1.  FYI--The much talked about "Black In America" Docuseries airs tonight and tomorrow night on CNN at 9p EST both nights.  
​ ​
​ ​ ​