Are Mariah & John Legend Stealing Ish?
​
Apr 14 | by Natasha
​ ​ ​ ​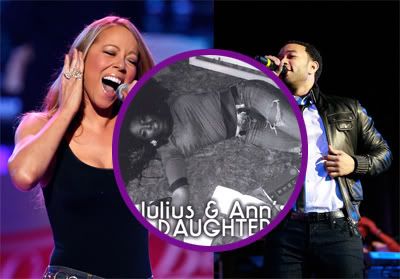 I received an e-mail last night from
a Grammy nominated songwriter named Jeanine
claiming that both
Mariah
and
John Legend
have stolen songs from her. Apparently, John's track "PDA" off his
Once Again
album and Mimi's track "Thanks 4 Nuthin" off
E=MC2
were both originally written by Jeanine and both artists' songwriters allegedly jacked the tracks from Jeanine. A copy of the e-mail when you read the rest...
As you all know I'm a writer. Some of you are familiar with my work and if you aren't you will be soon. Anyway, I discovered that both John Legend and Mariah Carey have ripped me off. John Legend and Jessyca Wilson basically re-did a song I have called "Take Me With You" off of my Julius & Ann's Daughter album and called it "PDA" on his Once Again album. If you would like a link my song I will send it. I will pursue legal action because I have a copyright number and I can prove that Jessyca stole the concept, melodic and song structure and reworked the lyrics. I am flattered because the best idea she's had came from me, however I think she needs to be locked up for stealing. If she had stolen my car she would be doing a bid and this is worse. Stealing intellectual property is like attempting to rob someone of part of their legacy. Mariah recorded a song called "Thanx 4 Nothin" on her new album and her writer Manuel Seal stole the concept, song structure, lyrical interpretation, title and theme from me. I know Manuel. I have an eye witness that went to his home and watched him play my album so much that he knew all the words to all of my songs. Again I'm flattered but he must pay me and go to jail for stealing my intellectual property. I am asking you personally to sign this petition that I am circulating. I am tired of major artists stealing copywritten songs that have been shopped to them in good faith. Paying someone after the fact has so far been ineffective so I am calling for this crime to be punishable with 5 years jail time. Spread the word! Song theft = jail time! Here is the link to the petition: http://www.thepetitionsite.com/petition/304686416
Interesting...
Wilcox/Winter/Wireimage/CDBaby.com
​ ​
​ ​ ​