Legal Drama: Michael Jordan, 50 Cent, Girlfriends + Thandie To Play Condi Rice?
​
Apr 07 | by Natasha
​ ​ ​ ​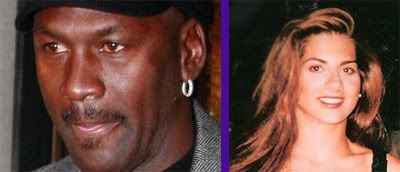 Michael Jordan's stalker chick Lisa Miceli is back. And she's demanding him to take yet another DNA test for her 4 year old child Dante Michael Miceli. She's been claiming he's the father of that child for three years, but MJ has already taken a blood test for her TWICE that proves otherwise. Too bad he has a restraining order out on her ass because she's been harrassing him like crazy. So MJ isn't taking that test again. No soup for you Lisa.
More details have been released in 50 Cent's baby mama drama case. Shaniqua Tompkins, the mother of Curtis' 10 year old son Marquis, indeed was denied her motion that allowed her to stay in 50's house unconditionally. And she was ordered to pay 50 $9,000 in court fees. Womp womp. Some chicks really need to learn their place.
The cast of Girlfriends is suing the CW network for apparent salary that wasn't paid to them. First they get jacked for a proper finale and now they don'teven get their due payment? Damn. The god news is, the network is in talk to bring veryone back together for a bootleg finale consisting of them rehashing their old memories and old clips will get played. Double boo.
Thandie Newton has been tapped to play Condeleeza Rice in an upcoming film called W about, of course, our current President. Not sure how I feel about that...as there are several Black American actresses they could have chosen from. But whatev. I still gots love for Thandie.
​ ​
​ ​ ​