Tell 'Em Why You Mad Khia.
​
Apr 01 | by Natasha
​ ​ ​ ​
Pic: Myspace.com
So
Khia
had a lot of time on her hands yesterday as she posted a few myspace blogs about folks. She blasted
Trina
about her album release, weight loss, and
Weezy
leaving her:
WHAT DA HELL IS BOBBLE HEAD DOING ON DAT BITCH TRINA PAGE. CUZ ONLY A FOOL'S ALBUM WILL DROP ON APRIL FOOLS. DA JOKE IS ON ANYBODY WHO BUYS IT!!!yESSSSSSSS!!! DIS NUT BUCKET BITCH, DONE PROMOTED NASTI MUZIK!!! SHE DONE PUT POSTERS OUT WITH THE THUG MISSES NAME ON IT. THANK U BITCH!!! SOMEBODY DONE GAVE DIS HO COURAGE JUICE. I THOUGHT SHE LEARNED FROM THE DISS RECORD. HELL.... YALL SEEN WHAT HAPPENED AFTER DAT SHE LOST HER MAN...... FROM WHOM I HAVE EVER INTENTION ON MAKING MINE...... DATS RIGHT WEEEEEEZY!!!!!YESSSSSSSSS!!! THE QUEEN HAS CHOSEN. YALL AINT SEEN HER SHE DONE LOST WEIGHT AND FROM DA LOOKS OF THANGS. THIS IS WRONG TIME FOR HER TO EVEN THINK TO PUT OUT A ALBUM. ALL I COULD THINK OF IS HOW SHE NEEDED TO CONTINUE WITH PEDIALITE AND ENSURE. CAN SOMEONE PLEASE BREAST FEED DIS BITCH? OR SHOULD I DO IT SINCE MY TITTIES LOOK LIKE DEY SLEEP!!!! OR IS IT DAT IM DA ONLY BITCH DAT CAN PRODUCE SWEET MILK. ASK WEEEEEEEZY!!!!! I LUVVVVVVVV HIM. I WANNA BE HIS LADY!!!!!!!! YA SEE!!! DATS THE DIFFENCE BETWEEN ME AND DA BITCH TRINA!! SHE SINGLE AGAIN AND BACK ON DA PROWL. I WANNA BE WEEZY'S LADY AND HAVE HIS BABY. DA DIFFENCE BETWEEN QUEENS AND HO'S!!!! ALL MY FANS..... LETS ALL SAY IT TOGETHER........... THANK U TRINA FOR ALL DA PROMOTION!!!!!! PS. MS NIVEA...... GO BACK TO YA HUSBAND...... AND QUIT CREEPIN WIT MY MAN!!!! UR A MOTHER NOW!!!!!!! THUG MISSES "LIVE AND OUTLOUD!!!!!!!"""
The tomfoolery literally makes my head hurt. And she continues the foolishness by STILL talking ish about
Janet Jackson
... She posted this other message yesterday as well. And yes, she still seems salty about Janet not including her on the
20 Y.O.
pub and "So Excited" video "correctly":
LET'S TALK BOUT JANET!!!!!!!!!!MS. JACKSON IF U NASTI!!! BEIN A KHIA HATA. U KNOW DERS A LOT OF DEM..... LURKIN AROUND....UNDERCOVER HATIN!!! CUZ YESSSSSSSSS!!!!! DATS WHAT SHE DID. IM SICK AND TIRED WITH THEM CONFUSING DA TRUTH WIT ME TRYNA PROMOTE MY NEW ALBUM. MY FANS KNOW I DONT NEED HER TO DO SHYT TO HELP PROMOTE NO ALBUMS!!!!! DA QUESTION WAS...... WHY WAS I ON DAT IN TV..... LOOKING LIKE A OLD ALFRED HITCHCOCK FILM!!!!!!! IN BLACK AND WHITE!!!!! TELL ME WHATS REALLY GOING ON. WHEN I LEFT DA SET THE VIDEO DIDNT LOOK LIKE DAT!!!! FURTHERMORE..... THE FULL VIDEO WAS WORLD PREMIERE WAS FEATURED ON ACCESS GRANTED. SO WHY WAS DA QUEEN EDITED OUT!!! I KNOW IT WASNT JERMAINE..... CUZ I KNOW IT WASNT JERMAINE. HE GAVE MUCH LUV AND SHOUT OUT ON DA SHOW!!!! SO WHAT WAS THE PROBLEM JANET!!! MS. jACKSON IS A LEGEND........ DONT MAKE ME BURN WITH DA IRON. PENNY ON GOODTIMES. STOP IT!!!!! ULL NEVA BE MARIAH!!!!! SHE DONT HAVE TO BE INTIMIDATED BY ME. PUTTIN ME ON DAT DAMN TV!!! SHE AT HATA. DIVAS CAN BE HATAS TOO!!! NOWWWWWWW!!!!!MYT ADVICE TO JANET. MS. JACKSON IF U NASTI!!! STOP TRYNA TO COMPETE WITH THE LITTLE GIRLS. GO TO VEGAS AND DO SIDE SHOWS WITH CELINE DION AND MAKE REAL MONEY........ WITH DOSE TRAMPESE CIRCUS ACTS!!! WE ALL KNOW YO TEA SINCE DA VALET ROPE. LET IT GO JANET. IF U NASTY!!!! THE THUGMISSES SAID DAT ON LOUD AND OUTLOUD!!!!!!!!!
No,
you
let it go boo. And we can't have a Khia post without some foolywang for the road: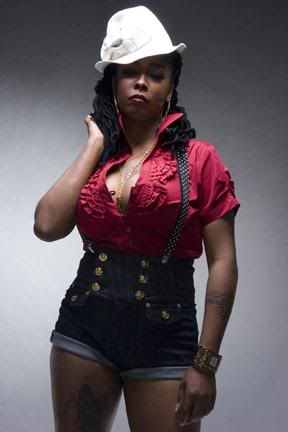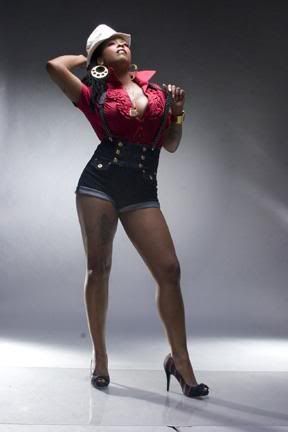 Pics: Myspace.com
She tried.
​ ​
​ ​ ​