Gossipish: Kimora Says Pregnancy Rumors Are Lies+Rihanna Needs Mad Buffalo Wings Backstage?+Diddy's Doing The Sex & The City Sequel?
​
Mar 16 | by Natasha
​ ​ ​ ​
Photog: Devaney/wireimage
KiKi says she's not preggers. I don't believe her. She needs more people.
Photog: Sapp/Wireimage
Right on time. Just when lil Rihanna was approaching her diva status, she went and made the diva move of crazy ass backstage rider demands. Apparently she's demanded that each venue provide her with two packs of pink bubblegum, two apples, two mangos, two pears, seedless grapes and strawberries. Oh, and two knives (to cut the fruit), a teapot and 24 warm Buffalo wings, fried chicken.
Photog: Devaney/Granitz/Wireimage
Word has it Diddy maybe co-starring in the Sex & The City movie sequel. As long as he's not playing a black Mr. Big character I'm cool. Honestly it really doesn't matter. My only concern is the fact that we now know there's going to be a sequel. Hotness.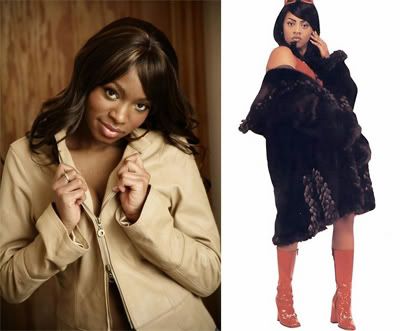 I also hear Naturi (formerly of 3LW) is set to play the Queen Bee in the new Notorious B.I.G. movie. Take that take that Cheetah Girls.
​ ​
​ ​ ​