No Sir Ne-Yo!+Deelishis Got A New Job
​
Nov 06 | by Natasha
​ ​ ​ ​
All kinds of foolywang material was up in Mansion in Miami the other night:
And No-No's
clearly reniged on his statement to Teen Hollywood last year
that he would never appear in public withut his hat because of his f'ed up hairline. We've far surpassed f'ed up hairline
No-No
.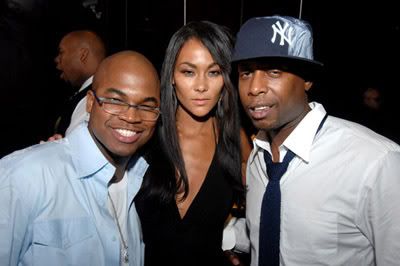 Talib was in the place.
Pics source: Wireimage//Browarnik
Scott Storch
(and
Viv
) still scare the bejesus out of me. And
Jade
is the fiercest one out all these pics. Damn.
Hot 102.7 out of Detroit got the bright idea to hire
Deelishis
, government name London Charles, to co-host their "Buckie Naked" night time radio show Tuesdays through Thursdays. She'll also be the entertainment correpsondent. Deelishis says she's super excited about it (likely because it's real job not involving faking her love for the crispiness that is
Flavor Flav
) and the Radio One execs say they're glad to have a "superstar" on their team. Superstar though? And in case you missed
Ashy Gary
:
Pics: ONTD via Ebay
*blank stare*
Clearly the Eczema Foundation of America was taking apps for President over the weekend. And while ashiness is a serious matter, I refuse to let anyone slide because they can't afford vaseline or just simply forgot to apply some type of oil this week. Apparently Gary's trying to raise some money on Ebay right now by selling this Gamecube he's signing. But more importantly, nobody tapped Gary before they snapped this pic AND posted it to Ebay to let him know his skin was yearning? Anyways, I just don't think a collection plate is going to cut it this time... The Randomness:
​ ​
​ ​ ​