Trey Songz Arrested!
​
Nov 06 | by Natasha
​ ​ ​ ​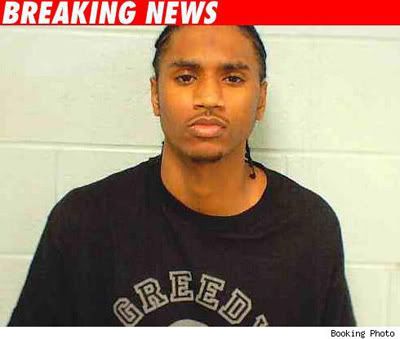 Pic source: TMZ.com 
The number of black celebs copping that lock up status these days is ri-damn-diculous.
Trey Songz
was arrested in Springfield, MA yesterday morning (Nov. 4) with several members of his crew after a shooting outside his concert. Apparently he was charged with Disorderly Conduct and was released soon after on a $500 bond.
The Police Lt. explained to Allhiphop.com
:
Our disorderly person charge can involve several different things including the use of certain language, failure to do what an officer asks.
And this wasn't his first arrest
if this nature either. Trey was arrested by the Clark Atlanta University Police Department and charged with the offenses of Obstruction of a Law Enforcement Officer and Disorderly Conduct. Get it together Mr. Tremaine Neverson. And seeing that an altercation broke out at another one of Trey's concerts back in October, WTF is up with folks fighting at an R&B concert? Is it really that serious? My people my people…
​ ​
​ ​ ​